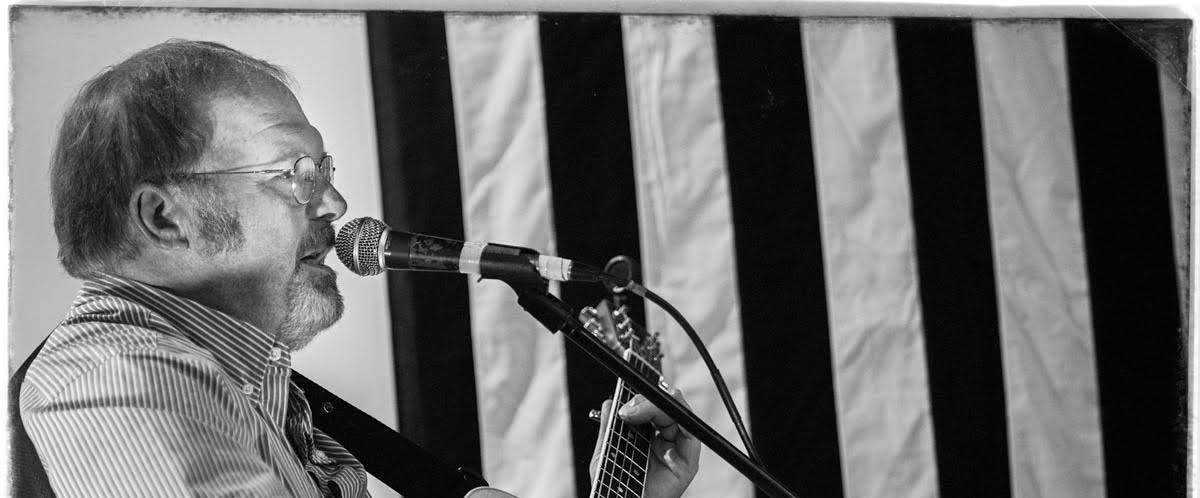 Before going solo, Bill spent over 35 years as a bass player and backing vocalist with numerous "weekend warrior" bar & bluegrass bands.  The solo performer you're seeing these days owes a tremendous debt to the musicians he played with over the years and what he learned from them.  "I had the good fortune to have played in a diverse collection of bands, with many talented musicians. Their collective influence is an elemental part of what I'm doing now. For all the magic I shared with those guys, I am eternally grateful" – Bill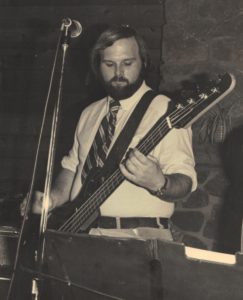 There – Bill's Band Days: 1975-2012
1975-76  "Friends of the Sacred Biostat"    FSB was four 20-ish guys rockin' their socks off in their drummer's garage. Although we only played 2 paying gigs, the die was cast. 45 years later, I'm still at it. My hat will always be off to guitarists Henry Seiz and Tex Green, and drummer Mike Zilick for the great times we had and especially for the "band skills" and a "music first"  work ethic that has always served me well.
Fast Forward to September 2016: How many bands do you know, pro or amateur, whose original members got back together to make a record after 4 decades apart? Mine did. 41 years after that magical summer of '75, the Friends of the Sacred Biostat re-united in October, 2016 for a weekend of fun and music. After months of planning, Mike drove from NC and Tex from ME to my home in western NJ for 4 days of "Band Camp"….catching up, whooping it up, and serious rehearsal, culminating in a basement concert for a dozen friends that produced a first-rate digital audio recording, thanks to Michael Carr's Holland Studios (facebook.com/HollandStudiosNJ ) I feel so very, very fortunate to have started out with these guys and that we were able to pull this off decades later. For keeping us four old rockers fed, coffee'd, and comfortable, I nominated my amazing wife Dianne for Sainthood. I'm still awaiting a reply from The Vatican.
1977-80 "The Lost Weekend Swamp Stompers" Like our business card said, "More or Less Traditional Bluegrass"…Everyone from Bill Monroe to Randy Newman to Jimi Hendrix was on our playlist; anything in between was fair game. The 'Stompers early days saw a few lineup changes, but eventually the pieces came together to form an inventive and entertaining little band that worked pretty regularly and never failed to surprise….sometimes the audience, sometimes ourselves. Thanks to Jerome Kevin, Henry Seiz, and Mark Horvath for being part of the band's formative years and to Dave Turner, Vern Warta, and Billy Conley for some memorable gigs, a commitment to always be working toward making it better, and a musical legacy that still makes me smile. I'd be remiss if I didn't give a shout-out here to our occasional  guest-artistes Damien Boucher and Tom Blatz on fiddle.
1980-83 "Back In The Saddle"  This band grew from the ashes of the Swamp Stompers after Billy Conley moved away. Dave traded his acoustic for a Les Paul and Vern swapped his Dobro for pedal steel; we added Pete Cowley on drums and my old FSB buddy Tex on lead guitar and we were Back In The Saddle. We had ourselves a rollicking good time playing tunes by Commander Cody, the New Riders, Little Feat, Jerry Jeff Walker, and John Prine. The band's final lineup (Dave Turner-lead vocal/rhythm guitar, Michael Carr-lead guitar, Vern Warta-pedal steel/vocals, David Spencer Hiller-drums/vocals, and myself on bass/harmony & lead vocal) was short-lived but left behind some recordings that still sound great after almost 40 years.
1984-89  "The Mt. Pleasant Garage Band"  As they say, when one door closes, another one opens. When Back in the Saddle disbanded in late 1983, I was crushed. I thought we were just hitting our stride, but that's how it goes with bands. Being in one is kinda like being married to several partners at once. Married folks know how difficult it can be trying to keep one spouse happy; with 3 or 4 people at once, it's more like a high-wire act. In early 1984, after a few weeks of being bandless, I was invited to replace founding member Wayne Miller in the Garage Band. Thus began my introduction to several hither to unexplored (at least by me) musical genres and several of my now most favorite songwriters/artists.
Once again, I was fortunate enough to find myself among fine musicians. Multi-instrumentalist/vocalist/audio wizard (and sadly now departed) Dan Balde, Tom Salvito on rhythm/vocal, Dennis McGrath on percussion/vocal, and, at times, either Tom Blatz or Dennis Freiwald on fiddle. (We were a fiddle-less quartet for a while before finally adding Jerry Brunetti on accordian and keys. Sadly, Jerry is also no longer with us) The Garage Band dabbled in a lot of different styles and tended towards tunes that were unfamiliar to a wider audience, so we never really became local "mainstays", but our small cadre of loyal fans and especially our fellow musicians really loved our "sound". 
1990-2003  "The Buffalo Hollow Bluegrass Band"  By 1990, my time with the Garage Band had run its course. Thanks to an old buddy, (also now sadly departed) Fiddlin' Bill Huber, I was offered the bass spot in the Buffalo Hollow Bluegrass Band, with whom I had a long and happy tenure. It was my pleasure and privilege to spend 13 years with these great guys: Ciro Lopinto-guitar, banjo, accordian, vocal; Chuck Winch-banjo, guitar, mandolin, fiddle, vocal; Bill Huber-fiddle, mandolin, vocal. After Bill passed suddenly in 1999; his spot was most ably filled by Pete Becker on mandolin, guitar, & vocal. We were a 5-piece during my initial years with the band, with gifted luthier Mike Terris on banjo, guitar, mandolin, dobro, (he built them all) and vocal. In 2004, Ciro and I both moved from the Hunterdon County area and that, as they say, was that.
2005-2012 "the co-dependents"  Most folks considered us a classic rock band, but "the co-dependents" were a whole lot more than that, both musically and to me personally. Late in 2004, I moved to the Flint Hills of eastern Kansas after a lifetime in New Jersey. For the first several months there, I was a fish who'd suddenly found himself in a much smaller pond after a musical lifetime of swimming in a musical ocean, one teeming with really good musicians and all manner of musical opportunities. After six months of being a stranger in a strange land, a "bassist available" card I'd posted at the only music store within 60 miles connected me with one Christopher Wade Crump. Wade was also a transplant, and likewise desperate to fill his own musical vacuum. He spotted my card, called me, and we hit it off instantly, like brothers from other mothers. Despite the substantial age difference between us, we somehow knew dozens of the same tunes and harmonized like we'd been singing together all of our lives. Soon, we had enough songs rehearsed to start playing out. 
After two years as a duo, we finally found a dependable, steady drummer in Taylor "T-Bone" Everhart. The three of us rocked east-central Kansas for several years, blowing audiences' minds with improbable segues that became our trademark (Flying Burrito Brothers to Badfinger to Merle Haggard to Stone Temple Pilots was pretty typical)  "the co-dependents"   were:  Wade Crump-lead guitar, lead/harmony vocals, harp. Taylor "T-Bone" Everhart-drums, and Yours Truly on Fender bass and harmony/lead vocal. Thanks, fellers…it sure was a fun ride.
Here – Bill Goes Solo (2012-Today)
It's a scientific fact that inside every sideman is a front man dying to get out. After an amicable end to my time with "the co-dependents" and 35 years in bands, I decided it was time to get in touch with my inner troubadour. I hung up my trusty Fender bass, strapped on a Martin dreadnaught and started building a solo repertoire.
It's always been about the songs for me; images painted with words and metaphors, emotion conveyed by a melody, and stories well-told in three verses and a chorus. Music says to us things that words alone cannot. Through all my time playing in bands, I'd always held a special respect, admiration, and appreciation for songwriters and their craft.
In that sense, my solo shows are a tribute to those writers and songs that are special to me. My goal is to share those songs with a wider audience and younger ears that might not experience them otherwise.
I like to think of myself as a "song collector" who will try to play anything that catches my ear and imagination, regardless of age, writer, or genre. Ultimately, I suppose this part of my musical career is about gratitude and acknowledging the writers who have had a hand in writing the soundtrack of my life.